Websites for Photographers and Creatives
Website + Blog + Domain & emails + Sell Photos + Photo proofing + Customers area + Much more!

All-in-one solution to create your photography or creative website
Create an elegant portfolio, sell your images, products and services on the online shop or
create photo proofing galleries. Your customers can see, proof and buy your photos from home

. The best websites for photographers and creatives.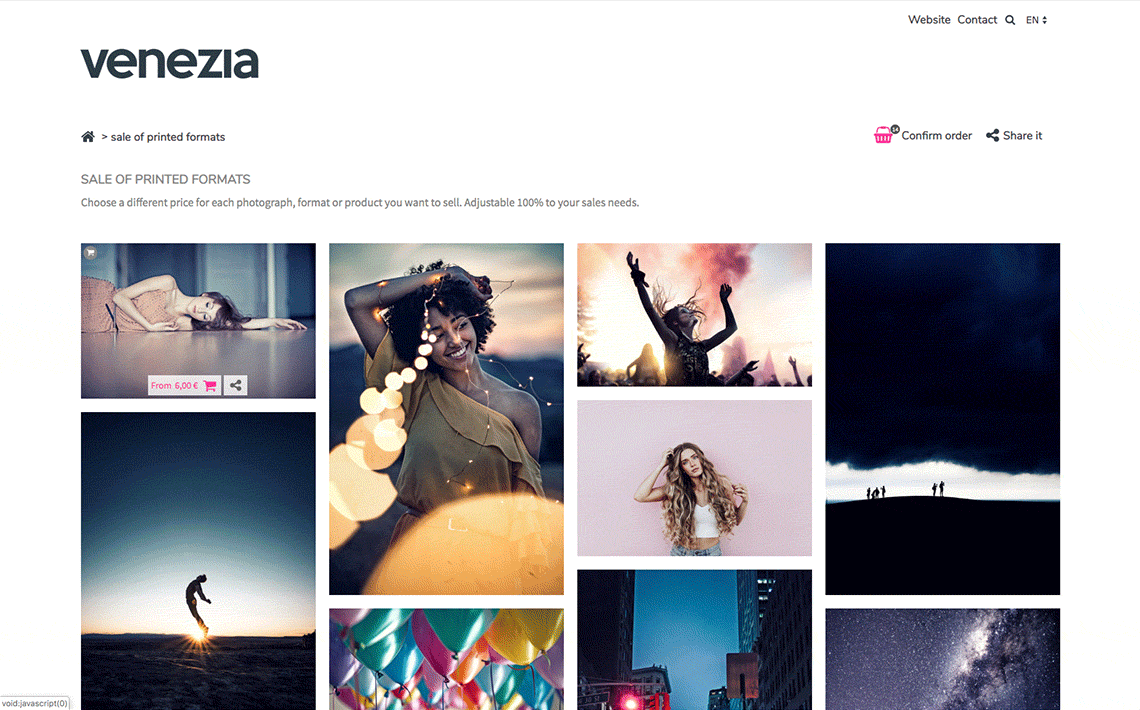 Manage your photo & video website by yourself
The management panel is ready for you to edit all content, images, videos, text, music, etc., without great computer skills. And you can change the web model whenever you want. You will have ten web themes at your disposal. Your photography website always updated.
Ready for tablets and smartphones
Our websites for photographers and creatives are accessible from any mobile phone or tablet. Offer to your visitors a best experience of navigation and help them to know your work of a efficient and elegant manner. The mobile version of our websites for photographers use responsive design.
SEO friendly
You have at your disposal all necessary measures to position your photography website in search engines and get more visitors. With the management panel of your website you can modify the title, description and keywords of your home page and the others sections of your website.
24/7 Customer support
Our support team will help you to solve any question you may have while you create or modify any section of your website. In addition, you have available an online help with information about each section of your photography website.
Social networks for photographers & creatives
Each of our websites themes includes social networks icons and links to your profile. Find your target audience in social networks, to achieve your marketing goals. Connect your website with the social media (Facebook, Twitter, Blog,...) is essential to improve your photographer presence into Internet.
Your own domain and email accounts
Your website with its own domain and without additional cost. The domain is your personal brand and will differentiate your photography and video website from the rest. Do you already have a domain name? No problem, we help you transfer it to Arcadina. In addition, you will have domain email accounts. And we have special domains available like .wedding, .photo, .art and many more.
Security for your photos
Maximum security for your photos in your photography page. You can add watermarks to your photos for added security to a copy. The photos show an appropriate resolution for web but low quality printing. Besides the right mouse button does not allow you to save the image.
Ads in cover
Pop-up Ads are used publicity on the website although this is not the only use of these pop-up windows. Use this service to show your latest offers or news about photography. Your visitors will see this on your website when you want.
Photo & video galleries in all styles
Fresh, clear and designed to make the most of your photos and videos.

A website for photographers, videographers and creatives

Jordi Aparicio
"We have already incorporated the online store to sell photos to our website. The operation for both the customer and us is simple. Three days after work we have already had the first order of photos of a baptism!"


ÑFotógrafos
"Customer area seems very interesting for our customers to proof their photos comfortably from home. That they can see, proof and buy their photos privately on the web is a service that gives added value to our reports."

Agustín Marín
"Excellent visibility of my work. The possibility to change the theme of the website anytime. Excellent!. The best websites for photographers that I know."

Yolanda M Criado
"The service is very pleasant with Arcadina's workers, very helpful and with a lot of attention and education. Technical support is fast if there are any problems, in that case the rating is 11."

Giuseppe di Maria
"I am very pleased with the web service Arcadina. For ease of use, by design, by the professionalism of service. My photography site is visible and accessible to all, I have every reason to congratulate."

Petits Somriures
"Arcadina team! We wish to congratulate you for the work that you have done =) They facilitated us the management about our website. Brilliant service in terms of speed, support, etc! Thank you =)."