Blogs for photographers
Creating a professional photography blog has never been easier
Get started now
Free 14-day trial. No credit card are required.Free 14-day trial.
No credit card are required.
A beautifully designed photography and video blog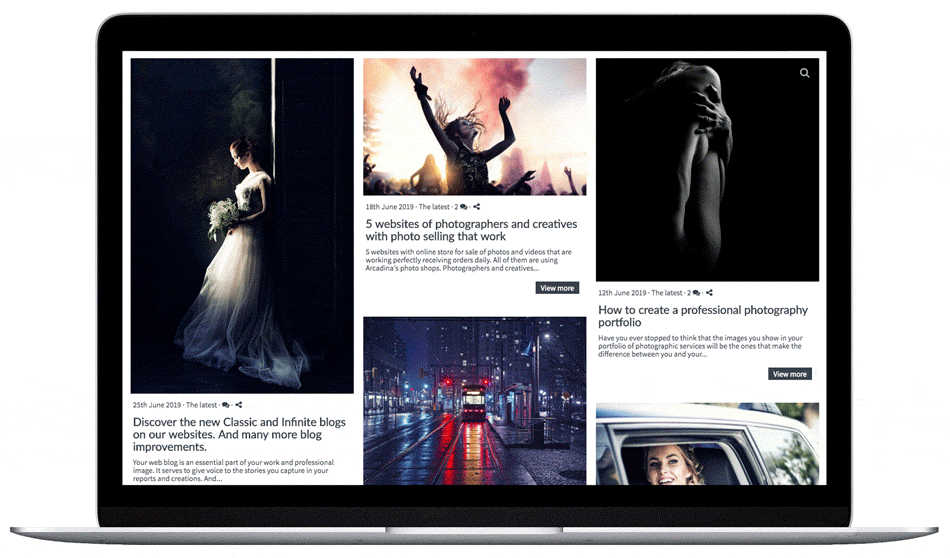 At Arcadina we have made the concept of a blog easy, agile and transparent for any inexperienced user. A blog designed to meet the needs of a photographer, videographer or creative. A specialized web service for you. Sign up and access all the functionalities and features of the most complete web service and blog. Renew your image and enjoy a self-manageable photography blog.
All our web designs include a photography and video blog that you can manage from your web management panel. Blogs for photographers, videographers and creatives with designs that we have recently released. Friendly and functional appearance, with very large photos and social networking connection. And many more features that we invite you to discover.
Your biggest photos, take advantage of the maximum width of the blog for photographers and creatives

Showing your photos on the blog is now easier than ever. You can upload as many images as you want to your photo and video blog in one click because all posts have an integrated gallery. The gallery allows you to sort photos and videos, choose which to publish, and view them in full screen thanks to the integrated image viewer.
Our blogs are the only ones that allow you to see your photos in a full screen viewer. Moreover, you can upload photos up to 2000x2000px. This is a unique feature of our websites that you will hardly find anywhere else, not even in wordpress.
You will be able to take advantage of the maximum width of the blog without unpleasant "surprises" that affect the design of it by including an excessively large image in an article. Your images will automatically adapt to the maximum width of your blog. And if you include a smaller image, it will be shown in its real dimensions without scaling or pixelation.
Share your posts, blog photos and videos via social networks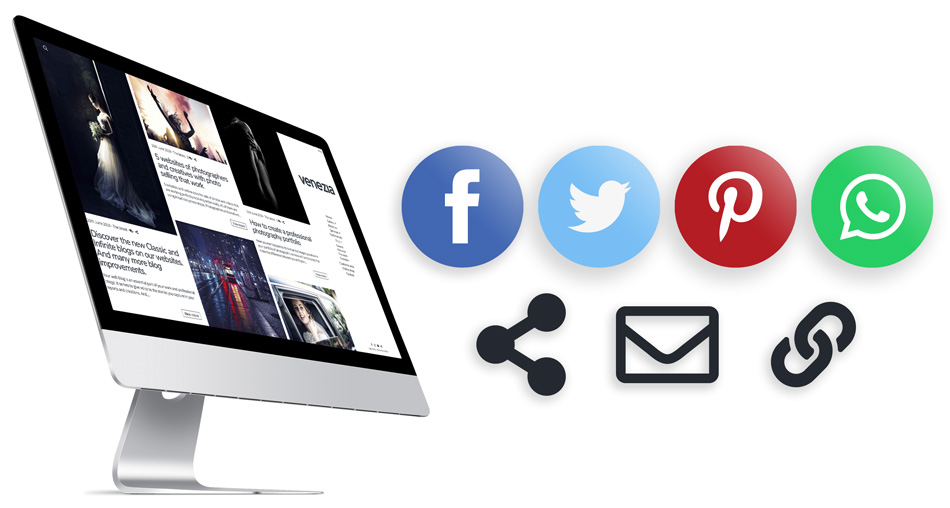 Make yourself known. You can share blog entries on the most important social networks. This way your blog visitors will be able to share an article in their Facebook profile, or send the article by mail, etc.
In addition, it is also possible to share photos individually, which is another unique advantage over other blogs and websites.
Social networks facilitate the rediffusion of blog contents, increasing its visibility in a potential way, which will increase the traffic of visits to it. And the increase in visits becomes a considerable improvement in the positioning of your website in search engines.
It will only be necessary to activate the sharing option from the management panel.
Choose from several blog designs for photographers
Change the look of your photo blog

All our blogs for photographers include the same features and possibilities, the only difference is their design, choose the one that best suits you. Personalise your photography, video or creative blog. You can choose between Classic, Block or Infinite design. You can choose the number of columns or entries on the cover, whether it shows the date of publication of a post or not, moderate visitor comments, and much more.
Try Arcadina now for free and create your photographic portfolio, online shop, Arcadina Labs, private client area and blog.

The all in one solution for your business.
Get started now
Free 14-day trial. No credit card are required.Free 14-day trial.
No credit card are required.