Arcadina Labs
Print your photos in professional and exclusive formats
Get started now
Free 14-day trial. No credit card are required.Free 14-day trial.
No credit card are required.
Arcadina Labs: your photographs direct from the lab to your client
Arcadina Labs is a photo printing service with professional laboratory results. Your customers can buy your photographs in different original formats, comfortably from their homes with a click and you will receive the benefits of each order.
Discover all the types of photo prints you can offer with Arcadina Labs. Professional paper, canvas, methacrylate, wood or metal are some of the formats we have available.
Your best photographs can become original and exclusive pieces of decoration for your clients, thanks to the Arcadina Labs service.
Arcadina Labs* is here to stay and make your life easier. It is a function that you have in your client area and online shop. It allows you to offer your customers the printing of your photographs, in a series of professional and original formats, without you having to take care of anything. You will save time and money.
* Available for all European countries in the euro zone.
Canvas & HD Metal
Exciting photographs now also printed on canvas and metal.
Canvas with frame
Your photo will be printed on a canvas in a choice of 9 different sizes, with different finishes and thicknesses. This type of Arcadina Labs photo decoration is ideal for your customers with a more classic style. The canvas will be mounted on a wooden frame with a back support to give more body to the image and to be able to hang it on any type of wall.
Imagine how surprised your customers will be when you tell them that they can order a photographic canvas print from the comfort of their own home!
HD Metal
For your most avant-garde customers, you can now offer them photographic prints on a modern and time-resistant HD Metal aluminium plate. This image printing format is available in 12 different sizes and various types of very exclusive finishes.
The best thing about the HD Metal print format is that, depending on the size chosen, the printed metal photo foil can be hung on the wall or on any kind of surface on a wooden stand.
Passepartout & Desk Block
Photographic prints on methacrylate that will become original photo decorations.
Passepartout
The most elegant and stylish customers will love the Passepartout photo printing format. Your images will be printed on a metallic photographic paper on a thin sheet of transparent methacrylate. Two small stands (also made of methacrylate) will be included in the design to place the photos on any kind of flat surface.
The Passepartout printing format, available at Arcadina Labs, is ideal for your clients to decorate their home or give a more personal touch to their office.
Desk Block
This format of photographic printing on methacrylate, Desk Block, is designed to surprise. With a thickness of 20 mm and various print sizes, the images seem to have a life of their own. And best of all, the Desk Block format is resistant to the passage of time, falls and the smallest of the house
Offer your customers high quality and voluminous image printing. Now with the Desk Block format your photos will come to life.
Express Print & Eco Poster
Printed on high quality, environmentally sustainable photo paper.
Express Print
Photo printing in Express Print format is here to stay and when your customers discover it, they will be delighted with its quality and speed of delivery wherever they are. The convenience of your customers being able to order the printing of your photographs on paper, directly from your website, and receive them a few days later at home, is a detail that they will love.
Offer a more complete, professional and convenient service to your customers thanks to Arcadina Labs Express Print format photo printing.
Eco Poster
The Eco Poster paper printing format is designed for your customers who are more concerned about caring for the planet. The paper used to print the photographs, in addition to being of high quality and durability (thanks to the laminates used), will be ecological, a detail that will delight your customers.
And speaking of details, did you know that the Eco Poster format has a single fixed price, regardless of the print size your customers choose?
The Eco Poster format is ideal for printing photos thanks to the professional results of Arcadina Labs.
Retro Wood Prints
Your small and large works of art printed on wood.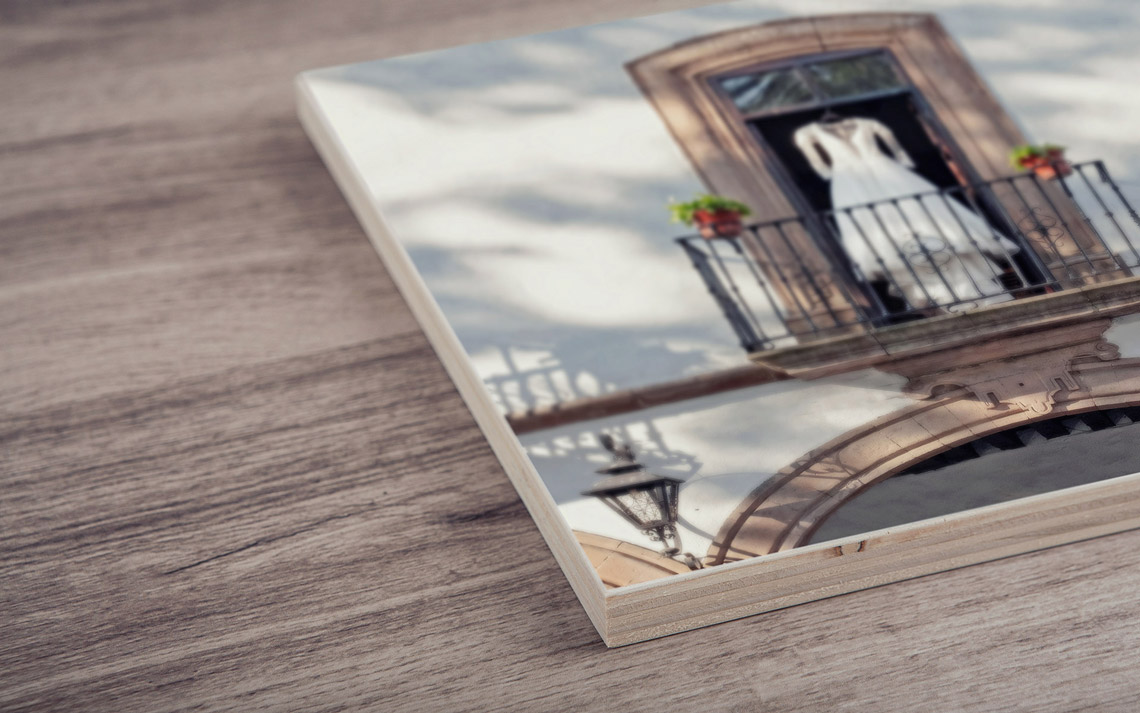 Retro Wood Prints
The Retro Wood Prints printing format is another of Arcadina Labs' most exclusive formats, where the printed photos will be on a 15 cm thick sheet of natural wood (square or rectangular), and will be available in up to 8 different sizes. Undoubtedly, a large format that will transform your clients' photo sessions into truly exclusive pieces of decoration.
The Retro Wood Prints format by Arcadina Labs protects the images from the passage of time.
What are you waiting for to use Arcadina Labs? Your customers are looking forward to it
Try Arcadina now for free and create your photographic portfolio, online shop, Arcadina Labs, private client area and blog.
Frequently asked questions
What is Arcadina Labs?
Arcadina Labs is the best online photo lab you can have on your website and the business solution you need to save time and money in your work as a photographer.
Arcadina Labs is the best way to earn extra income with minimum effort and offering professional quality products.
How does the professional photo lab work with Arcadina Labs?
The operation of the Arcadina Labs photo lab is very simple. Your customers will be able to order prints of your photographs in a wide variety of professional printing formats, and also the entire sales process will be automatic and direct from the lab to your customer.
With just one click you can activate the professional print formats you want to offer to your customers, then adjust the final selling prices as you see fit, and you're all set to start selling and generating extra income. Your customers will be able to buy your photos in professional print formats wherever they are.
How can I control my customer's professional photo printing orders?
From your management panel you will control the orders placed by your customers and you will be able to check that everything is progressing properly. You will be able to check their status, if they have already been sent to your customer's home, if you have already received the payment, how many you have pending shipment, etc. In addition, the sales statistics will inform you of the income received each week, month or year, which printing formats are sold the most,... And much more.
What types of professional photo printing does Arcadina Labs have?
The professional printing formats we have available at the moment are:
• Canvas (photographic printing on a canvas type fabric).
• HD Metal (photographic printing on an aluminium plate).
• Passepartout (photographic printing on thin methacrylate).
• Desk Block (photographic printing on thick methacrylate).
• Express Print (high quality professional photographic paper).
• Eco Poster (professional and sustainable photo printing paper).
• Retro Wood Prints (professional wood printing).
In which countries is Arcadina Labs available?
Currently, the image printing service with Arcadina Labs is available in Europe, for websites registered in Euro zone * countries.
* The Eurozone countries are: Austria, Belgium, Estonia, Finland, France, Germany, Greece, Ireland, Italy, Latvia, Lithuania, Luxembourg, the Netherlands, Portugal, Slovakia, Slovenia and Spain.
How can I activate the Arcadina Labs professional photo lab?
Very easily, from your customer area you can activate the professional photo lab service and have your photo prints available in the most exclusive professional formats.
What are the prices of Arcadina Labs formats?
At Arcadina we suggest sales prices based on our clients' own experience and the average market prices. From there you can adjust them as you need, depending on the profile of your clients, the type of work, etc. To do this you can use the price lists to mark in each gallery at which prices you are going to sell the printed formats.
In the management panel you can see the cost price for each format and from there you can set the selling price and you will see the profit margin you will obtain.
What if I need help using Arcadina labs on my photography website?
We help you, we are available 24 hours a day, 365 days a year to help you with any questions you may have. Through our online chat we will be happy to assist you so you can start enjoying your lab and start printing high quality photographs.
Create now your photography business with private client galleries, photo and service sales, website and blog.

All-in-one professional solution

Get started now

Free 14-day trial. No credit card are required.Free 14-day trial.
No credit card are required.