Private client galleries
Last online photo gallery solution to share photos, deliver, proof and sell online.
Get started now
Free 14-day trial. No credit card are required.Free 14-day trial.
No credit card are required.
How to deliver photos to clients or make an online photo selection
Online gallery for photographers who want to show images to the client and deliver their work wherever they are.
If you are a photographer and you are wondering how to send photos to a client or how to deliver wedding photos, with Arcadina you can create on your website online photo galleries with username and password, this is what we call the private client area. You will be able to deliver and share professional photos and videos to your clients and have them send you their selection easily. Creating a photo gallery for clients is very easy. You can also show photos to clients with music. Or create a client gallery with photo downloads.
Take your business one step further with easy-to-use, non-technical online galleries for photographers.
You have several types of client galleries that can be public or private (password access). And you can add images and videos (private or public photo albums). The different types are explained below.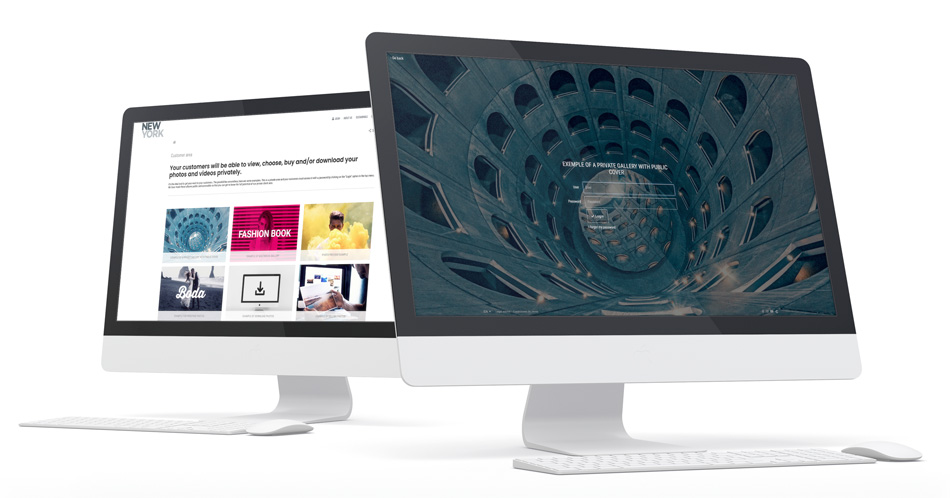 Photo and video proofing galleries
With online photo galleries and video galleries, customers can proof photos from the comfort of their computer, tablet or cell phone.
Photo and video selection galleries allow you to show photos and videos to your customers and let them make a selection of photos and videos conveniently from their computer, tablet or cell phone through photo selection pages. Simply create the selfie gallery, upload the photos and notify your customer to access your customer photo gallery, review their photos and choose their favorites (with the Favorites feature).
Once your client has made the selection of photos and/or videos online you will instantly receive an email with the list of selected photos and/or videos. And you will always be able to consult from your web management panel that selection of images and the rest of the orders in progress of your customers.
The selection galleries for clients are ideal for photographers and videographers like you, who do not have time to make an appointment in the studio with your clients to make the selection of photos (because it will take a lot of time). This way your clients can choose their photos and/or videos comfortably from home, and you can continue working.
In addition, the home photo selection pages have an important marketing effect, because many times clients often make the photo selection in the company of other friends or family members. And that's an ideal way to let new potential clients know about your modern way of working, and your great work, of course.
Multimedia presentation gallery
Showing images or photos to your customers has never been easier. In a few minutes, set up a private photo selection gallery with music and leave your customers speechless.
With the multimedia presentation gallery you will be able to show images to the client with a slideshow with music (optional) or a video. Ideal to show a summary of a finished project. You can also assign permissions so that it becomes a private photo gallery.
Make private your photo and video galleries
It's a simple way to show and share photos and videos with your customers privately.
Our online galleries for photographers are intended for those who simply want to show their photos and videos to clients as quickly, professionally and safely as possible. For example, you can show photos to the bride and groom a few days after the wedding and while they are still on their honeymoon. Or to a business or professional model who wants to have their photos available online but privately. You can also use it to privately share with other photographers the photos you want to show. It is an easy way to show clients their photos privately.
The private sample gallery allows you to view photos, but without the ability to select, download, or sell them.
Private photo sales gallery with print formats
Offer your customers the print formats you normally use in your business.
You can share photos with customers and sell them in different print formats: photo paper, canvas, methacrylate, wood, and more. Now available with Arcadina Labs.
You can create private client photo galleries for a wedding, guest photos, end of class photos, studio session images, social event photos, sporting event photos, and anything else you want. Private photo galleries also allow clients to purchase photos from anywhere.
You can create a photo gallery with a general price list if all photos are priced the same. Or, if you prefer, a photo gallery with an individual price list if each photo has a different price.
Allowed payment methods for selling printed formats are Paypal, Stripe (credit card payment) and TPV Virtual (direct payment gateway with your bank, available only in Spain). You can also pay by bank transfer, cash on delivery and cash on delivery.
In addition, shipping costs are determined by product type and destination.
We live in a digital age where people have no time, and online shopping is becoming common and natural and can increase sales and business opportunities. That is why it is essential that as a photographer, videographer or creative you have an online page to sell your photographs.
Client galleries with digital download
Create client photo galleries that allow private sales with digital downloads.
It works like the sales gallery with print formats, in fact the same photo sales gallery can include print and digital download formats.
The big difference in selling digital files is that once payment is made, the customer can directly download the files. The payment methods allowed for digital file sales are Paypal, Stripe (credit card payment) and TPV Virtual (direct payment gateway with one's bank, available only in Spain).
Private photo download gallery
This online gallery for photographers allows you to download photos. Very useful as a page to choose photos and deliver them to clients. And much more.
Have you ever been in a hurry to deliver photos for a wedding or other type of client and not known how to get them to them? Image download galleries allow clients to download their photos digitally at the click of a button. It is a very convenient and effective way to deliver photos to clients.
Photo download galleries are also very popular for private events with many participants or guests. For example, a wedding photocall, private parties, company openings, promotional events, conferences of all kinds, institutional events, end of the school year, etc.
They are customer photo galleries with added value, because they allow (optionally in each gallery) to request, from those who download the photos, their data, with a small contact form. This is a powerful marketing tool that will allow you to grow your contact and e-mail list. You can then send them your news and offers.
In addition, some photographers create these kinds of private galleries to download photos with a prior financial agreement (with the bride and groom, the party organizer, the school principal,...). These clients pay a one-time fee to have their photos available.
Control your privacy and protect your images with watermarks
Our service includes a complete watermark manager. And you can protect your work with a password.
With our online galleries for photographers you can create photo and video galleries with unique passwords for each of your clients. Choose who can see your photos. It's easy to create password-protected photo galleries.
You can also protect images with a watermark very easily with the advanced watermark manager included in our websites. This provides maximum security for your images and protects the copyright on every photo you upload. Create your watermark in a snap and forget it forever. From then on, the watermark will be automatically applied to all photos uploaded to client galleries. It is advisable to always use one watermark for all galleries.
And on our websites, photos are always locked to prevent visitors from right-clicking and saving the image, even if it is just the watermarked thumbnail.
An advanced interface that helps visitors
When photos look better, customers buy more.
Photo galleries for photographers have a modern and simple interface that will make your life and that of your customers easier. For online sales of photos and videos, presentation plays an important role. It has been proven that in our industry, when photos look better, customers buy more. That's why our private online galleries are elegant and designed to highlight the qualities of your work.
Purchasing options and buttons are clearly visible to increase sales. And the shopping cart on our websites is very simple and intuitive.
Finally, the processes of selecting photos, selling photos, downloading photos... have been simplified to the maximum.
Doing business wherever your customers are
Our clients' photo galleries can be viewed from any computer, cell phone or tablet.
At Arcadina we are very clear that today's users access the Internet from smartphones and tablets, so it is more necessary than ever for customer galleries to be adapted to all types of devices. They will be able to make a selection of images or purchase photographs from any online medium, multiplying the possibilities of doing business online.
Our private customer photo galleries can be viewed from any device, so they reach all your customers and visitors in the best way possible.
Security in photo payment
The payment methods we offer and our websites use secure servers and protocols, which ensure that the information circulating on your website is always protected and cannot be used by third parties. In this way we offer your customers total security for their data. You will have all the peace of mind of a secure online store.
Online photography gallery to expand your photography business
Create a site with photo galleries for clients and start making your online business more profitable.
The photo gallery for photographers, videographers and creatives is a tool conceived and designed for the professional photographer to do business online in a simple and effective way.
The photo galleries for photographers are the key tool your site needs to boost your online sales. Try them, they are very easy to use. And they are fully integrated with the web design, giving an overall look more professional and trustworthy.
You will be able to show images to your customers and they will have pages to select photos or images and you will be able to deliver these photos to your customers.
And the management of these galleries is also integrated in the same management panel of your website, which will simplify your work. You will spend less time managing everything, you will have less headaches managing several different panels, and you will have much more time for your work and free time.
Create your new online photography business and start making your photos, videos and creations more profitable.
Frequently asked questions
What are client photo galleries?
Client photo galleries are the best way to privately present your photographic work to customers. Your clients will choose their photos from home, and you will easily receive their selection. You can also create client galleries with music. Or create a photo gallery with direct sales and downloads.
How to show photos to clients?
With Arcadina you can create photo galleries for clients, where you can show them your photos and videos with a username and password through the online gallery for private photographers.
How many photos are delivered per shoot?
If you are in doubt about how many photos are delivered per session, and this number varies depending on the event, our experience with photographers tells us that around 30 photos for every hour of the event.
With client online photo galleries you will save time and money when you deliver wedding photos, photos from a sporting event, parties or any photoshoot you have to do.
How can an online gallery for photographers help me sell my photos?
With Arcadina's online gallery for photographers you can create private or public photo galleries for clients. In them you can share and sell your own photos, videos and professional photo shoots.
In addition, with Arcadina Labs you can sell images in the form of prints, canvases, frames, digital downloads and much more.
How to deliver wedding photos to a client?
If you are wondering how to deliver wedding photos, with Arcadina you have the solution you are looking for. The image download galleries allow your client to download their photos in digital format and with a single click. You, as a photographer, will not waste time, and both the bride and groom and the wedding guests will be able to choose, download and/or buy their photos online, and your clients will have their own pages to select and choose their photos.
Photo download galleries are also widely used for private events with many attendees or guests (sporting events, parties, fairs, and other social events where your work is required).
How many photos are handed out at a wedding?
It is difficult to calculate how many photos are handed out at a wedding because there are external factors that a photographer cannot calculate before an event.
For this reason, with client photo galleries your clients will be able to view all your work at home, choose their photos and select the ones they decide to keep.
How can I create photo proofing galleries for clients?
It's very simple: through your management panel you can create as many photo galleries for clients as you like, and they can proof the photos they like.
Client photo proofing galleries are ideal for photographers and videographers who, like you, do not have the time to schedule a studio appointment with clients to select photos.
What means of payment can I offer to charge for my photos and services?
Do you charge me a commission for selling my photos?
We do not charge you commission for the sale of your photos, videos or any photo shoots. The price is set by the user, who gets all the benefits. Arcadina charges only the monthly or annual fee for your web service.
Do you need additional assistance with client photo galleries?
Our customer service and technical support team are available 24/7 (including Sundays and holidays) to help you via chat and email.
Create now your photography business with private client galleries, photo and service sales, website and blog.

All-in-one professional solution

Get started now

Free 14-day trial. No credit card are required.Free 14-day trial.
No credit card are required.