Integrations for your photography website
We have the best integrations for your online photography business that make your daily work easier
Get started now
Free 14-day trial. No credit card are required.Free 14-day trial.
No credit card are required.
WhatsApp Business Integration
Communicate with your customers in a direct and close way through the WhatsApp instant messaging application.
At Arcadina we know that WhatsApp has become an essential work tool for photographers. It has been proven that this instant messaging application is much more effective in creating a more direct and closer communication with clients.
If you want your clients and visitors to be able to communicate with you through a WhatsApp icon from your website, you can hire this extra service that we offer you in Arcadina.
The days of relying on email to communicate with your customers are over. With Arcadina's WhatsApp Business service, you can easily reach your customers wherever they are. This instant messaging service allows you to maintain fast and effective communication with your website visitors, resolving their questions and queries quickly. Don't wait to connect with your customers any longer. Sign up for WhatsApp Business with Arcadina and don't miss out on this game-changing service.
Lightroom Integration
Export and manage your website photos directly from Adobe Lightroom, without accessing the control panel.
We know that Lightroom has long since become a fundamental tool for many of you who trust our websites of photography, video or creative. For this reason, it has been a priority for us to be able to offer you a tool that helps you to simplify the process of uploading your photos to the web.
Thanks to the new plugin for Lightroom that includes all our websites you will be able to:
Create new folders to have your sessions well organized (both from the control panel of your website and from Lightroom).
Export your images from Lightroom to your website in a more direct way (without having to go through the control panel of your website). You will be able to export your images directly to the galleries of your website, to the blog posts, to the online store for sale or to the private customer area to share them only with your customers.
Import the photos selected by your customers in their private customer area to Lightroom directly.
You will save a lot of time as you will get all these processes done in a more automatic and effective way.
Embed your Instagram gallery into your website
Create a gallery with your photos published on Instagram, elegant and fully integrated with the rest of your website.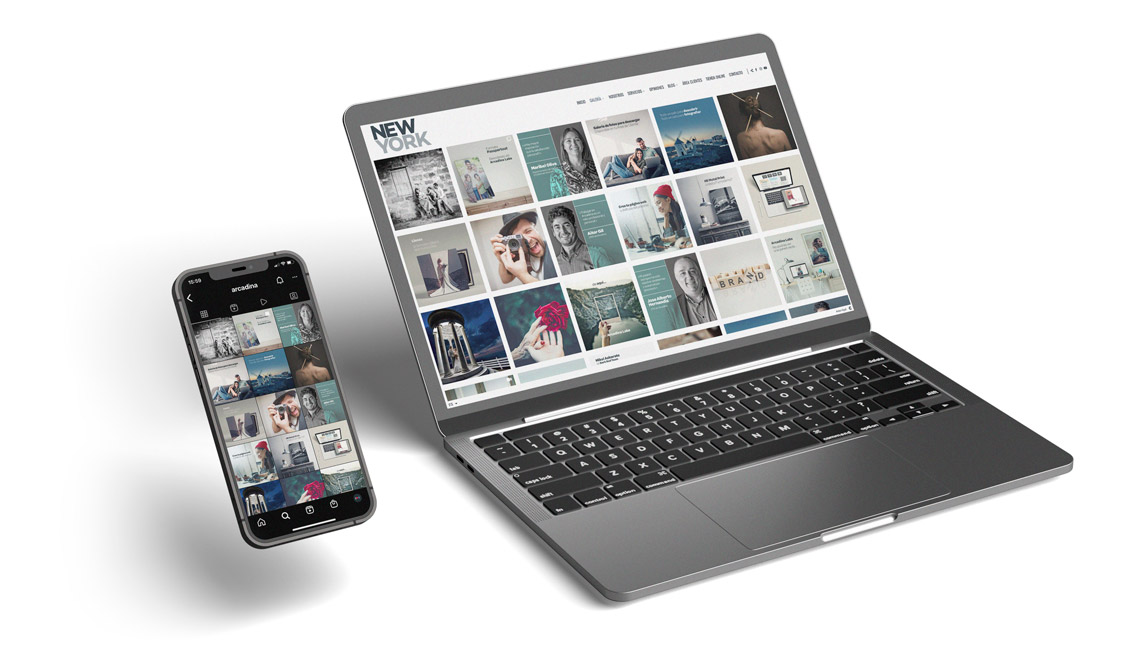 The social network Instagram is perfect for photographers, because it shares visual content with a multitude of people and potential clients on a daily basis. It is the fastest growing social network in recent years and is always innovating options for companies and brands. For this reason, if you publish your latest work on Instagram, you will give more visibility to your reports.
With Arcadina, you have the possibility to integrate Instagram galleries in your photography website in a simple way. Including this type of galleries in your online portfolio is the best solution to connect your website with your social networks.
Integrate Google Analytics into your photography website
Find out where your visitors come from and how they behave.
Use Google Analytics integration to improve the user experience on your website and increase your sales.
One of the best tools to help you measure this is Google Analytics. With this web analytics tool you can get the most out of your photographer's website. You can see at a glance how many visitors your website has, where they came from, which links they clicked on, which pages were the most visited, what they searched for and how long they stayed on your site.
With Google Analytics integrated into your website through the Management Panel, we can know all this data. To set up Google Analytics you only need to follow a few steps and you will be able to have detailed reports of the statistics to be always aware of everything that happens on your photography website.
The information about where your traffic is coming from (the source of the traffic) will help you to focus your marketing campaigns on the best channels. Discovering the interests of your visitors will help you improve your website and your business.
Enjoy social networks
Share with your friends on Facebook, Instagram, FearLess, Youtube, WhatsApp and other social networks for Photographers.
The best way to have direct contact with your customer. The social networks come to stay and it is important to adapt them. The amazing growth of users on the social networks has created a way to keep your business in the mind of everyone. Aprovecha Use the potential of the social networks.
Each of our websites themes includes social networks icons and links to your profile. We help you to socialize your website and find your target audience in social networks, to achieve your marketing goals. Connect your website with the social media (Facebook, Instagram, Youtube, FearLess, WhatsApp, TikTok...) is essential to improve your presence into Internet.
SSL security included
Your web with SSL security certificate.
Your photographer website now 100% secure with an SSL certificate. Arcadina automatically creates and sets up free SSL certificates with industry-recommended 4096-bit keys and SHA-2 signatures for all our websites. With your website secured with SSL, your visitors will see a secure green lock icon when you type the address of your website in the address bar of a browser and this will also improve the ranking of your site on Google.
An SSL certificate improves the positioning SEO of your website because it shows secure the connection of your website to the search engines that will show your website to visitors and increase the authority of your website on the Internet, improving its positioning, highlighting more in search engines and increasing Visits and potential clients.
Your Youtube and Vimeo content in your customer video galleries
Add your videos stored on Youtube and/or Vimeo to your video galleries with Arcadina.
The video galleries that you can create with Arcadina allow you to easily show videos to your customers so that they can watch them easily from their device.
With us, you can paste the URL address of the video, which we find in the navigation bar of Youtube or Vimeo, and your customers and followers will be able to watch the video from the video gallery that you have created on your website for them.
You can also add a background video to the homepage of your photography website. Or create private video galleries for your clients.
It's the ideal way to bring your YouTube and Vimeo content to life and show it to the world.
Create now your photography business with private client galleries, photo and service sales, website and blog.

All-in-one professional solution
Get started now
Free 14-day trial. No credit card are required.Free 14-day trial.
No credit card are required.