Grow your business with solutions designed for you
Create your website with all that you need to succeed
Get started now
Free 14-day trial. No credit card are required.Free 14-day trial.
No credit card are required.
Include all the photo albums and video galleries that you want
Create the highest quality photo and video galleries
Your photos will be displayed at the highest quality and professional resolution.
Create as many photo and video galleries as you need and upload images in an instant thanks to our advanced photo upload wizard, which allows you to upload 1000 photos or more if necessary and continue working smoothly.
Photo and video galleries add personality to your site. We have many photo gallery designs for you to customize your photo and video website to the fullest. You can also add a video in the web presentation. Or add a photo gallery or video to a blog post. and more possibilities.
With our websites your photos and videos will look their best.
Online shop for Photographers
Sell your photos, videos and photography services.
Fit your website to your real business. You can sell your photos, videos and services. A photo book, a study session, your author photography individually priced, wedding photos with a common price list for all, pictures of a sports event and even a picture book or a photography course. The possibilities are endless.
Set the formats and prices. Charges will be made by PayPal, Stripe, bank transfer, or cash on delivery if you go through your shop / studio.
You can sell your digital files with direct download after your online payment. Your client after having made the online payment of the photos will receive by email a link for download. This simplifies the process of selling photos and increases your sales.
Sell your photos (wedding, fashion, communion, nature, author, social events, sporting events, congresses, etc.) with professional printing formats. With Arcadina Labs your clients can choose the print format for your photographs in a series of awesome professional and exclusive formats. It will no longer matter if your clients live far from you for them to see and buy your photos.
The sale of your professional photography services (a studio session, a wedding or communion, a course and more) will increase. Move all the services of your current business to your photography website and increase your income.
Maximum security for your photos. You can add a watermark to your photos for greater security against copying. The photos are displayed at a resolution suitable for the web but of low quality for printing. In addition, the right mouse button will not allow you to save the image.
Private customer area (photo proofing and much more)
Your customers can see, choose and buy your photos and videos privately.
Your customers can view and select your photos (photo proof) without having to go to your business, streamlining your work and saving your time. You can show your work in a simple and elegant way. For example, a bride and groom can view and select their wedding photos at home, you can show your photos to a foreign customer, or a company can view their catalog photos via internet without having to go to your office, etc.
You can also sell your photos, videos and professional services to your customers privately. For example you can sell the wedding photos to the couple but also their families, group shots of the wedding, reminders, pictures of communion, pictures of a studio session, photo frames with a photo of the couple, books of fashio, custom paintings, business photography, photos of a professional conference or photos of participants in a sporting event. The business opportunities are endless.
In the customer area you will be able to create a multimedia presentation album, a photo and video selection album, a digital download album, a private album for selling photos or videos, and other options.
Arcadina Labs
Printing of photographs in more professional and amazing formats.
Can you imagine being able to offer your customers a professional photo printing service without having to manage absolutely any order processing? And what if you can also offer it in different formats? Arcadina Labs is the solution you need.
With Arcadina Labs you will save time and money. Offer your customers a photo printing service in original formats such as methacrylate, metal sheets or canvases with photos from your photo shoots.
Your customers can choose to have their photos printed, through your online shop, in a series of more professional and exclusive formats. The orders will then be sent directly to the lab, and finally, the customer will receive them at home. No need for you to manage or worry about anything.
In the customer area (or online shop) of your management panel you will be able to supervise the orders. And see the available formats, their characteristics and prices (which you can modify if you consider it appropriate).
These are some of the formats that are available right now at Arcadina Labs: Canvas, HD metal, Passepartourt, Desk Block, Express Print, Eco Poster and Retro Wood Prints.
Professional Blog. Show your lastest works
Invite your visitors to know your work and share his thoughts and experiences.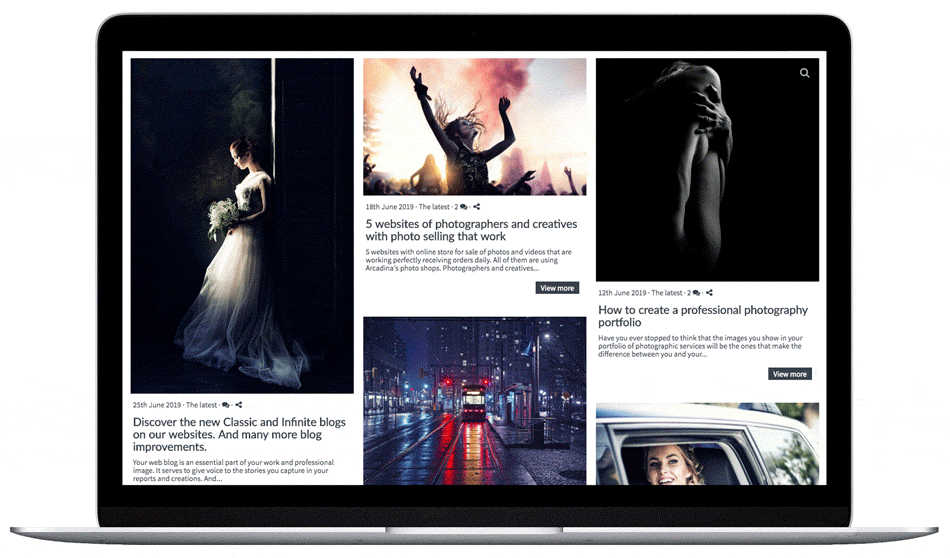 Keep your clients and followers up-to-date on your work and professional development.
It has been proven that clients feel more connected to a professional when he or she is approachable and communicative. The blog is an excellent tool to help you achieve this.
Our photography blogs are integrated in the web, so they share the same design and style, and this is very important in order to show a coherent brand image.
You have several blog designs and multiple configuration possibilities to give a personal touch to this very personal space. In addition, you can add a photo or video gallery to each blog article, which gives even more potential to this important tool.
Writing on your blog regularly will help you to improve the search engine ranking of your photographer's website. And if you are consistent you can get it ranked among the top search results. That is why all our websites include a blog.
Content Builder
Explain on your website your services, rates and how you work in a quick and easy way.
With our content builder, you can create any section of your website or blog in a few minutes and with a very professional result. It is a very intuitive and easy to use editor. In addition, in the right side menu, organised by categories, you will have more than 100 predefined blocks.
Choose one of the 7 website designs that you have available in Arcadina, customise each section to your liking, and organise the content in a modular way, so that your visitors can find the information they need in a very visual and intuitive way.
As we said, with the content builder you will have available more than 100 blocks that can be fully customised (colour, typography, size, style, format, etc.) organised into 18 categories: basic, texts, headings, buttons, images, profiles, contact, services, features, process, prices, skills, achievements, quotes, partners, mentions, coming soon and help and questions, which will save you a lot of work.
And if you prefer to be more creative, with the content builder, you can also create your own sections of your website from scratch, to adapt it to your personal style.
Control panel with no technical knowledge required
Unique Content Managemet System (CMS) adapted to your needs.
You dont need anyone to modify your website. We provide you a suitable tool to your needs to make the changes that you need without timeout or additional cost. Easy to use, our management panel has been created to facilitate your experience with him using standards and rigorous usability tests. The information is displayed in a friendly and intuitive manner.
Lightroom Integration
Export and manage your website photos directly from Adobe Lightroom, without accessing the control panel.
We know that Lightroom has long since become a fundamental tool for many of you who trust our websites of photography, video or creative. For this reason, it has been a priority for us to be able to offer you a tool that helps you to simplify the process of uploading your photos to the web.
Thanks to the new plugin for Lightroom that includes all our websites you will be able to:
Create new folders to have your sessions well organized (both from the control panel of your website and from Lightroom).
Export your images from Lightroom to your website in a more direct way (without having to go through the control panel of your website). You will be able to export your images directly to the galleries of your website, to the blog posts, to the online store for sale or to the private customer area to share them only with your customers.
Import the photos selected by your customers in their private customer area to Lightroom directly.
You will save a lot of time as you will get all these processes done in a more automatic and effective way.
Embed your Instagram gallery into your website
Create a gallery with your photos published on Instagram, elegant and fully integrated with the rest of your website.
The social network Instagram is perfect for photographers, because it shares visual content with a multitude of people and potential clients on a daily basis. It is the fastest growing social network in recent years and is always innovating options for companies and brands. For this reason, if you publish your latest work on Instagram, you will give more visibility to your reports.
With Arcadina, you have the possibility to integrate Instagram galleries in your photography website in a simple way. Including this type of galleries in your online portfolio is the best solution to connect your website with your social networks.
Enjoy social networks
Make new friends with Facebook, Twitter and other social networks.
The best way to have direct contact with your customer. The social networks come to stay and it is important to adapt them. The amazing growth of users on the social networks has created a way to keep your business in the mind of everyone. Aprovecha Use the potential of the social networks.

Each of our websites themes includes social networks icons and links to your profile. We help you to socialize your website and find your target audience in social networks, to achieve your marketing goals. Connect your website with the social media (Facebook, Twitter, Blog,...) is essential to improve your presence into Internet.
SSL security included
Your web with SSL security certificate
Your photographer website now 100% secure with an SSL certificate. Arcadina automatically creates and sets up free SSL certificates with industry-recommended 2048-bit keys and SHA-2 signatures for all our websites. With your website secured with SSL, your visitors will see a secure green lock icon when you type the address of your website in the address bar of a browser and this will also improve the ranking of your site on Google.

An SSL certificate improves the positioning SEO of your website because it shows secure the connection of your website to the search engines that will show your website to visitors and increase the authority of your website on the Internet, improving its positioning, highlighting more in search engines and increasing Visits and potential clients.
For tablets and smartphones
Reaches all people who use internet.
Get more traffic, our websites are prepare to access from any type of devices: PC, Mac, tablets, smartphones, etc..

All our websites have available a mobile version based on responsive design, without any extra cost and designed so that all the user of Internet can see your work from any device with access to internet.

Moreover, our websites are adaptedada to work in the main web browsers: Edge, Firefox, Safari and Google Chrome.
Know better your visitors with statistics.
Find out where your visitors come amd how they behave.
Use statistics to improve your user experience.

Use the statistic analysis tools to know the number of visitors of your website, where they come, what pages was the most visited, what they searched and how many time they were in your website.

The information about where the traffic come help you to focus your marketing campaigns into the best channels. Know your visitors interests help you to improve your photography website and business.
Your website in several languages
English, French, German, Spanish, Portuguese, Italian and more.
Arcadina offers to you the possibility to have your website in several languages ​​at no extra cost: Spanish, English, French, German, Portuguese, Italian, Catalan, Galician and Basque.

Especially useful for open an international market for photographers who have foreign customer or have their study in territorial areas with more than one language. Today, if you want make grow up your photography business, is essential to have a website in different languages.

To have a website in different languages, definitely opens to you the doors to other countries and to other potential customers.
Show yourself as a professional with a unique domain name (free)
Establish the brand of your business with a custom domain name.
We know the importance of having a good domain name because it helps your visitors and customers to find your photography and video website more easily. A domain name must be descriptive and catchy.

Do you already have a domain name? No problem, we keep it on your new website and we help you transfer it to Arcadina for free.

Do not you still have a domain name of your own? Do not worry, choose the domain that best suits you and your business, you can do it during the registration process. And it's also free!

We also have special domain names like .photo, .wedding, .art, .pro, .fashion ... And of geographic domains like .es, .it, .mx, .com.ar, .fr, .co, .. . And many more! Give a unique touch to your website.

In addition you can have email accounts of the type info @ tudominio.com that will give you a more professional touch.

Take the leap and professionalize your business.
SEO. Help your customers to find you
The success key on the Internet. The 90% of the Internet users use web finders.
Appears in the top results of search engines.

Our websites don't use Flash and are 100% html so it can be easily indexed by search engines.

In addition, with the management panel of your website you can modify the title, description and keywords of your home page and the others sections of your website.

We want your website appears in web finders when you search for a potential customer. There is no better time to sell your photos and videos than when someone is in need of your services.
Technical support and free updates
We provide professional technical support and free upgrades.
In Arcadina we offer a quality technical support. We are part of the photography industry for over 12 years and only work for photographers. This helps us to understand your needs first hand. Our professionals will answer your questions within 24 hours.

In addition, we offer free updates, so that all the latest improvements developed by our team of programmers are automatically applied to the websites of our customers. Thus your website will be updated with the technological developments required by the current professional photographic market.
Ads in cover (Ad pop-up)
Show your latest offers to your customers and fans.
¿What is a Pop-up?

A pop-up or emergent window, is a floating window that appears by surprise in your computer monitor. If you not want see the window, you can use the 'X' located into the bottom right corner to close this.You can include the image that you want.

Pop-up Ads are used publicity on the website although this is not the only use of these pop-up windows. Use this service to show your latest offers or news. Your visitors will see this on your website when you want.
Cover page with multiweb access
All your website spaces in only one site.
If you have different website spaces, we create you a only one page with access to all of them. A very useful option when you have a website, blog, Facebook, Twitter, Flickr, etc.. and you want group them all in one place.

Another interesting option is to exploit this space if you have different services in your business like wedding photography, autor photography, customers area, studio, etc... to direct your customers to the sections that interest you.

This service is available in each of our websites themes.
Create now your photography business with online shop, private customer area, website and blog.

All-in-one professional solution
Get started now
Free 14-day trial. No credit card are required.Free 14-day trial.
No credit card are required.