Create a website to sell photos
You will be able to sell your images, products and services
Get started now
Free 14-day trial. No credit card are required.Free 14-day trial.
No credit card are required.
With Arcadina you will enjoy a complete online photography shop where you will be able to sell your photographs, videos, products and professional services immediately. The business is no longer in the street, but on your website.
Below we explain some of the sales options that you will have available in your online photography store.
Sale of photos with print formats
Offer your customers the print formats you use in your business.

You will be able to sell photos and videos in different print formats: photographic paper, canvas, personalized products,... You can sell the photos of a wedding, the photos of guests, the photos of an end of course, the images of a studio session, the photos of a social event, the photos of a sporting event, ... The sale of photos online will allow your customers to buy their photos from home.
You can create a photo sale gallery with general price list if all photos are going to have the same price. Or if you prefer a gallery selling images with individual price list if each photo is going to have a different price.

The payment methods allowed for the sale of printed formats are Paypal, Stripe (payment by credit card) and Virtual TPV (direct payment gateway with your bank, only available in Spain). You can also pay by bank transfer, cash payment with pick-up at the store and cash on delivery.
You can also configure different shipping costs depending on the type of product.
We live in a digital era where people don't have time, and the online sale of photos and videos is becoming common and natural and can increase your sales and business opportunities. That's why it's essential that as a photographer, videographer or creative you have an online page to sell your photos.
Selling photos with digital download
Selling photos online with digital file downlad and secure payment.

It works in the same way as the sales gallery with print formats, in fact the same photo sales gallery can include print and digital download formats. The great difference of the sale of digital files is that once the payment has been made, the client will be able to download the files directly. The forms of payment allowed for the sale of digital files are Paypal, Stripe (payment by credit card) and Virtual TPV (direct payment gateway with your bank, only available in Spain).
Sale of photographic products and services
You can sell a studio session, a wedding album, photo slides, Christmas cards, congratulations, a book, courses,... 100% flexible
.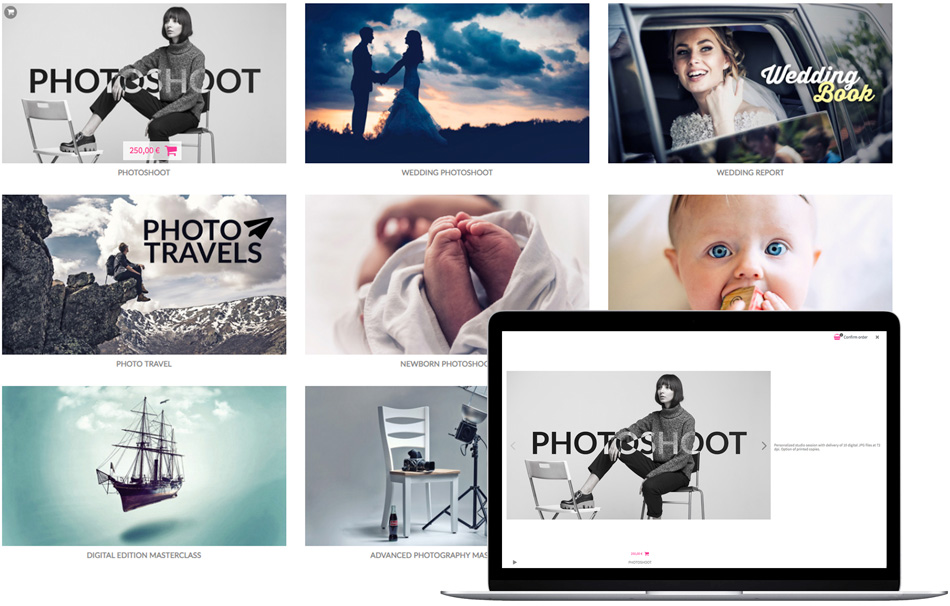 The online store has the possibility to sell your products and professional services. A wedding book, a study or communion session, personalised products or even gift cards or photography courses.
Sell your products and photographic services indicating your shipping costs and even quantity discounts. You can also indicate various forms of payment: credit card, Stripe, Paypal, cash on delivery, transfer or cash payment. And both you and the customer will receive an email confirmation of the order at the end of the purchase process. In addition, you can always manage all orders completed or pending from the management panel.

You will also be able to create your own price lists, for example a general price list and a VIP price list that only some customers see.
Selling videos
The sale of videos online begins to be very demanded among professionals of photography and image.

También podrás vender vídeos a tus clientes. Podrán hacer la compra y el pago online y después se los enviarás en el formato elegido para su descarga. Todos los pedidos recibidos los podrás gestionar siempre desde el panel de gestión de la tienda online integrado en tu web.
Create a photo website with integrated online store
Arcadina's websites include an online photography shop designed by and for photographers and creatives.

Every sale counts when it comes to improving your online business. With an online store integrated into your website you will be able to sell your photos, videos, products, services, offers, courses, ... everything you want.
You decide what, how and price, since the store will be managed entirely by you through its management panel. Sell your photos and videos directly on the web and get paid instantly.
A powerful online sales tool
Don't get complicated. If you have an online store integrated into your website everything will be easier.

Create your website and start adding products to your online store from a single management panel. Among other things, you can:
Specify a different price and description for each photo, video or service
If you want to sell your products and photographs with different prices you can do it. Each product will have the price you decide. For example the sale of photography of author, where each image has a different value. Or for photography studios that want to sell some of their photographic services.
Set prices by quantities
With this you will be able to make offers to your customers according to the amount of photos they buy. It is not the same to buy a copy of a photo than one hundred. For that reason, with our system you will be able to reduce the price of a photo according to the number of copies requested by the client. For example, from 5 copies a 10% discount. From 20, a 20% discount. Whatever you decide.
Opting for a general price list
Create a price list and assign it to a photo or product sale gallery, it's that simple. The photos in that gallery will share the same formats and prices.
Elegant and clean interface with the best user experience
We believe that the user experience must make a difference.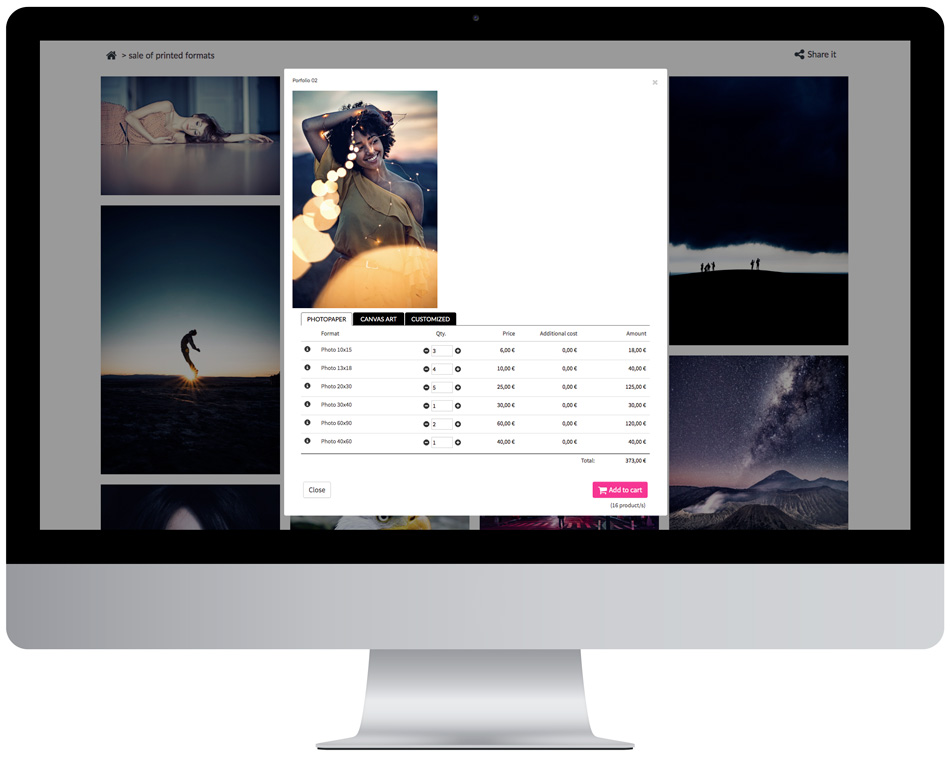 That's why we're continuously working to improve your customer space. Beginning by simplifying the purchase of your photos for your clients and ending in an agile and easy to understand design. Our goal is to develop a clearer user interface, better structured and easy for your visitors to understand.
Easy to use
You will be able to create your own online photography shop in just a few steps. In addition, our technicians will help you at all times. The manager is very intuitive and easy to use, and you can customize your store the way you want. For example, you can choose the photo sizes you want to offer, or track all your orders at a glance from the management panel.
Easy order and purchase manager
Check all your orders at a glance. The online store incorporates a space to track and manage all your orders easily. Check those that have been shipped, those that have not received payment correctly, and those that have already been successfully completed. For your customers, placing orders in your store will be very easy.
Optimized shopping cart
A shopping cart designed for your customer to end their sale comfortably.

The shopping cart of our online store has a great advantage and is that it is integrated into your website. For this reason the user experience becomes much more satisfying and trustworthy, always navigating in the same unique space and always adapted to your brand image.
Methods of payment
There are several ways to collect your photos or products: credit card, Stripe, Paypal, bank transfer, cash on delivery or payment in cash. In addition you also have the form of payment 'Cash on Delivery', cash payment for sales to be collected in your studio or store and bank transfer.
Security in payments
The online payment methods we offer use secure servers that ensure that the information circulating between your online store and your customer is protected. For your security you will also receive email notifications when a sale is made.
The payments made through your online store will be stored and saved automatically offering your customers total security of the data deposited online. You will get all the peace of mind of a secure online store.
From anywhere
An online store that adapts to any mobile device.

Mobile phones are increasingly gaining ground when it comes to searching and shopping on the Internet, so our online store is optimized for smartphones and tablets, so that your customers can buy your photos or items wherever they are. It doesn't matter what device your customers use anymore.
Adapted to mobile phones
Don't be left behind and give your customers the ability to buy your photos, products and photographic services from wherever they are. The new online store adapts to any device, so you'll be able to sell your photos via mobile. All Arcadina pages are optimised for viewing on mobile devices.